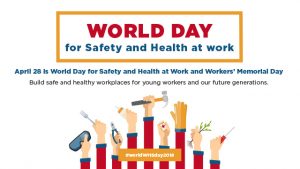 News that a WA regional transport company has been fined almost $60,000.00 and ordered to pay more than $5000 in costs after a worker's hand was crushed between two containers being moved using a forklift is a timely reminder that Saturday 28th April is World Day for Safety and Health at Work.
Not only physical safety but workplace health and wellbeing are on the agenda. In time for the World Day for Safety and Health at Work:
Safe Work Australia has launched a young workers web page to provide information and resources about building safe and healthy workplaces for young workers; and
The Mental Health Safety Working Group has developed a guide to choosing the right mental health training for organisations using recommendations from "The impact of FIFO work practices on mental health
Also, while we're on the subject of safety, new legislation will be coming into effect on the 14th of May which will require all workers performing work for reward at 'domestic-type' premises, turn of all sources of electricity by opening the main electricity switch(es) at the main switchboard before entering the premise roof space. To assist workers to comply with regulations, a 'Guidance note: Working in roof spaces' is available from the WorkSafe website.
Further information or advice on options in your workplace can be obtained by contacting the Workwise Advisory Services office on (08) 9792 4451 or jump onto Facebook and send us a message.