Training sessions have commenced in both Albany and Bunbury with the first session covering Bullying and Harassment in the Workplace.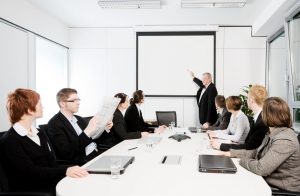 There are 10 sessions in all covering a wide range of topics of direct application to your workplace delivered over a 12 month period at 4 to 5 weekly intervals to allow plenty of time for scheduling. Session run from 9am to 12 midday on a Tuesday in Albany and a Wednesday in Bunbury.
The sessions are designed for employers, business owners and managers of businesses – particularly small businesses with up to 20 staff – and come about as a direct result of the regular queries we receive in relation to the lack of training available at low cost for employers.
It is our intention that the Course will 'roll on' once complete so if an attendee misses a session they can pick this up the next time we present it, alternatively participants may also have a 'proxy' attend on their behalf.
The cost for the entire course is $1100.00 inc GST which works out to only $110.00 per session and includes all materials along with a Certificate of Participation for each element of the Course completed.
The topics to be covered are:
Session Topic – IR and OHS Legislation in the workplace – What you should know
Session Topic – Unfair Dismissals and Unlawful Termination process Do's and Don'ts
Session Topic – The Employment Contract and JDF – Critical tools in employee management
Session Topic – Bullying and Harassment in the Workplace
Session Topic – Effective Time Management and Managing Priorities
Session Topic – Performance Appraisal – the Continuous Feedback Model
Session Topic – Onboarding and Avoiding Discrimination
Session Topic – Supporting and Managing a Positive Workplace Culture
Session Topic – Managing Terminations and Redundancies effectively
Session Topic – Social Media and Out of Hours Conduct
You may also attend individual sessions of your choice at $165.00 inc GST.
If this is of interest simply contact our office here in Bunbury on 9792 4451 and ask for Rob to register your interest and we will advise you of forthcoming dates and session topics along with other pertinent details.