'A Time to Every Purpose' 
An Evening with Author – Ian Hooper (Ian Andrew)
The Team at Workwise are pleased to introduce 'Ian Hooper' of JAIC Training and Consultancy Services. Ian will be working closely with Workwise to deliver specialised communication and personality proofing methodologies as a part of our 'Leadership Forum' training packages.
Ian settled in the Bunbury area back in 2004 and quickly established himself as a vibrant, dynamic and engaging training professional. He has worked within many private companies and government agencies delivering leadership, information technology and communication skills.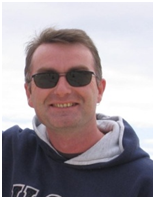 In 2007 Ian wrote his first fiction novel under his pen name of 'Ian Andrew' which is receiving its 'International Launch' in the Bunbury City Library.
We would like to extend a formal invitation for you to come along to celebrate the book launch with us on Thursday 27th November at 6.30pm
There will be complimentary cheese and wine and the opportunity to meet Ian and hear firsthand how he got his book published globally by Amazon.
To whet your appetite, here is a brief snapshot of the plot:
'A Time To Every Purpose' is set in a world that knew peace for 2000 years but in the early 20th century the world order is thrown into chaos.
Some 80 years after these events a preeminent scientist of her generation has invented way to 'look back' in time.
Banned from using anything more than investigative and intelligence gathering purposes by a brutal regime that fears power, she complies in the face of unsurmountable odds. But the world is changing and she now faces the ultimate dilemma, can she muster enough courage to act and 'reset' reality.
A signed copy of Ian's book will be our member giveaway for the 'Month of November' so be sure to utilise your membership by calling us on 9792 4451.
Workwise members to be there to win the prize on the night
Please RSVP no later than Tuesday the 25th November to confirm your spot and assist us with catering.
Call us on 9792 4451 or email admin@workwiseadvisory.com.au