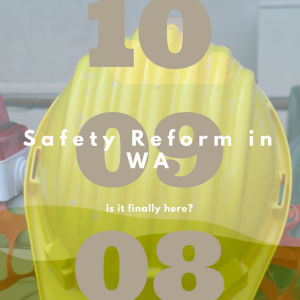 Is WA Safety Reform Finally Here?
It's long been talked about since the national Workplace Health and Safety Act was introduced to other states of Australia, and since July last year, work has been taking place here in Western Australia by a Ministerial Advisory Panel to provide advice on potential workplace health and safety reform in this state.
A new Act in WA would replace the existing Occupational Safety and Health Act 1984, the Mines Safety and Inspection Act 1994 and the Petroleum and Geothermal Energy Safety Levies Act 2011.
The Ministerial Advisory Panel has released its report to the Government and it is now available for public comment. The closing date for submissions is the 31st of August 2018 and you can download information and documents from the department's website here: Safety Reform in WA
The Department for Mines, Industry Regulation and Safety is holding information sessions in the following locations to provide an overview of the proposals for adopting the Workplace Health and Safety Act in WA. 
Thursday 12 July 2018 – Katanning
Friday 13 July 2018 – Albany
Monday 16 July 2018 – Bunbury
Thursday 19th July 2018 – Karratha
Tuesday 24th July 2018 – South Hedland
Thursday 26th July 2018 – Kalgoorlie
Monday 30th July 2018 – Geraldton
Wednesday 1st August – Broome
Monday 6 August 2018 – Mandurah