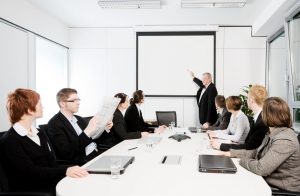 Just in case you were thinking that Workwise was sitting on its laurels our intrepid traveller 'Rob Littlewood' has been busy traversing the country to present as a Key Note Speaker at the recent Turf Australia Conference in Queensland and also at the National Disability Service's 'Country Forum' where he was a guest panelist along with Simon Bibby from CCIWA and Des Lewis from Baptistcare.
Interestingly – though widely disparate in their industries and employees – the matters of topical interest remain the same, namely, how to manage poor employee performance and unfair dismissals.
It is a truism that no matter how well you may handle (or think you have handled) a termination you cannot remove that person's right to take an action against you. So paperwork and process is of paramount importance. Along with getting advice BEFORE you act rather than after you've done the deed, by then it is far too late to address any issues.
And…..just in case you didn't think it was the case, here are the latest stats on the settlement of unfair dismissal claims via conciliation – as usual we note this post from Workplace Express.
…….Of the 4941 unfair dismissal claims settled in conciliation during the seven months from July 1 last year, 3691 involved a payment, according to new statistics from the Fair Work Commission.
Consistent with previous unfair dismissal reports from the tribunal and its predecessors, the overwhelming majority of unfair dismissal claims for the period were settled in conciliation, and of those that got to arbitration (369), the bulk (283) were dismissed.
But on the claims dealt with in conciliation, the data, published by FWC on Friday, shows 75% of settlements involved a payment.
Importantly, there is no distinction between compensation – what critics of the unfair dismissal system describe as "go away money" – and payment of outstanding entitlements.
The majority (51%) of payments were of less than $4000, while at the other end of the scale, 20% were of more than $8000.
Most settlements involving money were clustered in the $1000-to-$8000 bracket – 617 involved payments of $1000-$1999; 940 payments of $2000-$3999; 662 of $4000-$5999; and 404 of $6000-$7999.
At the higher end, there were 237 payments of $8000-$9999; 283 of $10,000-$14,999; 97 of $15,000-$19,999; 91 of $20,000-$29,999; 21 of $30,000-$39,999; 12 of the maximum amount of $40,000; and seven exceeding that.
Of the claims settled without payment, 2688 resulted in employees receiving a statement of service; 1934 were settled with resignation; 815 involved providing information of an undertaking; 634 the withdrawal of an application; 182 an employment separation certificate; 85 the return of property; 63 an apology; 33 payment in kind; and 20 the withdrawal of allegation/s. (Some claims have more than one basis for settlement.) None involved reinstatement.
Of the 369 matters that went to arbitration, 283, or 76%, were dismissed either for want of jurisdiction (142) or because the dismissal was found to be fair (141).
Of the 86 claims in which the employee was successful, 66 resulted in compensation – 35% involving payments of less than $4000.
Six applications for reinstatement were granted; while seven employees were reinstated and paid lost remuneration. In seven cases, the dismissals were found to be unfair but no remedy granted.