The Induction Process for new staff is one which for many employers receives 'lip service' attention. Lack of due process, lack of documentation, lack of properly allocated staff to manage the process and too few checks and balances may, in itself, constitute a potential breach of employment law – not to mention possible critical gaps in OHS information important to the new worker.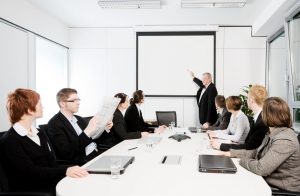 The early stages of employment are critical for both the new staff member and the employer. If you are to build a productive working relationship then it is important that you start well; this means the employer needs to set the 'tone' with an engaging and effective induction program. Tools such as induction software are a good idea as they can take some of the uncertainty out of the process, but there are also many other ways you can give your new employee the best start. The following points provide some guidelines which may assist you in critically reviewing your current processes..
Deal with the basics first
Before you get into the nitty gritty of your induction training, it is important that you make sure that your new employees are comfortable in their environment. That means letting them know what format the induction will take, where and when they can get food and drink and where they will find toilet facilities. Not knowing this basic information is very disorientating and even the most enthusiastic new starter will get less from the induction process if they are worrying about such matters.
Involve existing employees
Induction ought to be a two way process. It is just as important that your existing staff get to know new employees as it is that new starters get to know them. Involving existing employees from day one will speed up the integration process. It will also help your new workers to place what they are being told and shown into a context. Existing employees are already operating within the framework that is being explained and will be able to add weight and understanding to the induction process with examples from their own experience.
Cover more than the formalities
While it is important to cover the systems, processes and rules of the organisation, your new starters will benefit enormously if you cover more than these formalities. Try to go a stage further and give them a sense of how it feels to be an employee of your organisation. Existing members of staff can help here by giving 'inside information' on some of the inner workings of their particular offices or division.
Use available tools
There are tools available to help you plan and organise training for staff with all levels of experience in your organisation, so use them. Start with induction software and use a learning management system to continue staff development throughout your organisation; induction should be part of an ongoing process, rather than a means to a short term end. Use the induction process as an opportunity to set up a training plan and schedule a review that falls well within the 'probationary period' of employment – generally the first 3 months. In doing so, you will have instilled the principle of 'continuous improvement' in both your employee and your organisation.
Use more than words
It is very easy for new staff to become overwhelmed by a mass of information. You can somewhat reduce this risk by backing up the verbal information you give with visual resources. This will help maintain the interest and enthusiasm of your new staff members throughout the induction process. Simple things like handing out office seating plans and organisational structure charts will help ensure that new recruits don't feel completely lost. Consider developing an 'Employee Handbook' or other form of introductory material that give new staff an insight into your operations and some of the objectives and goals of the organisation.
Review
Above all make sure you regularly review your induction processes and ask new staff – once they've settled in – for their input. As recent recipients they may have valuable information to impart on how the system could be improved or better managed.
Big or small your workplace will benefit from having a clear and documented induction process. Call us for assistance and advice and ideas about how you can improve in this critical area..